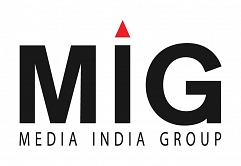 Media India Group (MIG) is a global media platform based in Europe and India publishing a total of 6 magazines, focusing on the promotion of tourism, hospitality, aviation, technology, cinema, food, defence, women empowerment, governance, sustainability, society, politics and business segments of India, European region and the world. The publications are in 4 languages - French, Spanish, German and English - with an outreach of 45 countries in 4 continents.

Our India-focussed publications in 4 languages are the only featured publications on Incredible India website as select magazines

● India & You (English) is a bi-monthly magazine that aims at promoting Indian business, tourism, arts, music, cinema, fashion, culture, cuisine and society. The magazine also comes every year with special issues of Pravasi Bharatiya Divas focused on Indian diaspora, ITB Berlin, ITB Asia, and WTM London (tourism fairs) and Cannes Film Festival.

● INDES (French) is the first French magazine on India. The bi-monthly magazine is distributed in 5 French-speaking countries and aims to provide information on India's economy, tourism, culture, cinema, social, developmental and political affairs.

● Indien fur Sie (German) is the only magazine in the German language about India and is distributed in German-speaking countries such as Germany, Belgium, Austria, Switzerland, Luxembourg and Liechtenstein. The magazine covers Indian business, tourism, art, music, movies and culture. An ITB Berlin special issue is also printed in German.
● Destino La India (Spanish) is the only magazine in the Spanish language focused on India. Distributed in Spain and Latin America, its purpose is to promote music, art, culture, society, fashion, cuisine, cinema and tourism of India.

● India Outbound (English) is the only Indian magazine dedicated to outbound travel from India. A bi-monthly, it reveals the hidden travel treasures of global destinations to a B2B and B2C audience. The average print run is 30,000 copies and it is distributed at leading tourism fairs all over India and abroad, +6,000 outbound tour operators, the Embassies in India, international airlines lounges​ ​in Mumbai and New Delhi,​ ​+250​ ​five-star hotels, all important travel and tourism associations and​ ​12​ ​leading international airports in India.

● Biz@India (English) is the only international magazine focused on Indian business. It aims to bring the latest developments in all the sectors of the economies in Europe and India. Each issue covers one particular sector of the economy in great detail, covering all the aspects. Besides interviews with the business leaders, it also has marketing tools and features like market strategies, market research and analyses as well as case studies of successes and failures.

● MIGTV: Apart from publications, Media India Group has a strong presence on the web with a total regular viewership of over 100,000, where it publishes multimedia content including editorials and videos. MIG has a dedicated video channel titled MIGTV, a definitive guide to enlightening information from India as well as from every other corner of the world.
Contact details
Address: 32 rue Le Peletier, 75009 Paris, France
ЗАОЧНО