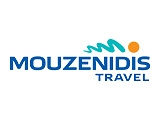 Being a proud member of a diversified large Greek holding Mouzenidis Group, tour operator Mouzenidis Travel retains and strengthens its position in the development and promotion of the destinations in Greece.
The head office of the company Mouzenidis Travel is located in Greece, in Thessaloniki while the filial offices operate in the resorts and regions of the country: Athens, Pieria, Peninsula of Chalkidiki, the Peloponnese and the islands Crete, Corfu, Rhodes, Thassos, Zakynthos. The company's regional network is constantly expanding, the number of offices in the cities of Russia, Ukraine, Belarus, Moldova, Kazakhstan, Romania, Serbia, Latvia, Estonia, Bulgaria, Georgia, Poland, Hungary, Armenia, Germany, Cyprus today is more than 80 and growing.
The successful operation of the representative offices allows the company to expand directions of the outgoing and incoming flows.
In addition to the Greek destinations, the company offers tours to ski resorts in Bulgaria and also develops programs for tourism in Russia and Georgia. In 2016-2017 opened new areas of tourism – Cyprus, Italy, Armenia and Azerbaijan. The flow of tourists taken by the company Mouzenidis Travel in Greece between 1998 and 2016, increased more than 60 times.
In the near future the company plans to reach the target of 1 million tourists a year.
Our goal is to achieve an excellent quality of tourist services and attractiveness of the proposed price of the product, which is possible due to the internal politics of our company.
Mouzenidis Travel caters to tourists from the beginning of the trip until they return to their home country, controling the quality of service at all stages of the trip and maintain hospitality at the highest level.
Useful links
Participate together with:
Mouzenidis Travel is the leading Tour Operator in Greece for over 20 years, providing excellent services in the tourism & travel industry for groups and individuals entering and leaving Greece.
Established in 1995 by qualified professionals.
Welcome to visit