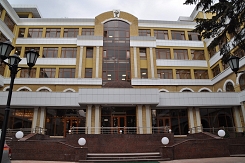 Contact details
Fax: +7 (879) 375-13-59
Useful links
Participate together with:
Sanatorium "Belaya Dacha" is one of the most beautiful sanatoriums in the Caucasus Mineral Waters region. The main medical profile of the sanatorium is the treatment of diseases of the cardiovascular system, bronchopulmonary diseases, functional nervous disorders.

Welcome to visit
The eight-storey hotel complex, located in the business center of Pyatigorsk - the capital of the North Caucasus Federal District. The convenient location of the hotel will allow you to get quickly to either end of the city, to have a delicious meal and stroll through the historic places. There are 183 comfortable rooms of different categories.

Welcome to visit
The Sanatorium «Plaza» Kislovodsk 4* is the first international investment project of the AFI Development in the Caucasian Mineral Waters, opened December 24, 2005 in one of the best areas of the resort zone of Kislovodsk.

Welcome to visit
JSC "SKO FNPR" Profkurort "- a specialized tour operator for Medical Spa & Health Resorts in the Black Sea, Caucasian Mineral Waters, the Midland, the Moscow region, the coast of the Crimea and other Russian resorts. Today it is the largest network of more than 300 health centers of the Russian Federation - from the Far East to Kaliningrad region.
Welcome to visit
RAFAEL is a pristine nature and unique soft climate, location near the park zone (200 m) in the center of the resort city, a charming and unique view to Beshtau Mount.

Welcome to visit
Sanatorium named after M.Gorky of Academy of Sciences is located in one of the most picturesque places in the city of Kislovodsk - a resort park. This is a health resort with 95 years of experience, and the richest history. Highly qualified doctors, hospitable personnel and comfortable rooms are waiting for you.
Welcome to visit
The sanatorium "Tsentrosoyuz-Kislovodsk" is one of the best sanatoriums in Kislovodsk, a health resort with an 80-year history. All conditions are created in our sanatoriumto welcome guests who can enjoy a decent rest, high-quality spa treatment, hospitable caucasian reception and home cosiness.

Welcome to visit
The company has been operating on the market since 2007. The main operator's direction is the Caucasian Mineral Waters.

Welcome to visit
2C1101