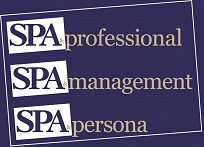 The Publishing House SPA MEDIA is happy to present to you unique series of magazines devoted to the history, development and current trends of SPA, as an inherent part of modern life.

On the pages of "SPA" presents the main trends of modern technologies and rituals, massage techniques, the latest facility, the best cosmetic brands in the world, innovations in anti-aging therapies, as well as interesting architectural and design solutions to urban and suburban SPA, wellness clubs and centres aesthetic medicine.

In our magazines you can find essential questions
of management and normative requirements which necessary for success of SPA.

In the "SPA" represents the opinions of leading industry experts, new directions of development of both domestic and foreign market health and beauty industry.

The journalists of corresponding conduct an independent examination of existing SPA and give an estimate in the magazine.

The concept of the publishing house.

Realizing that professional, directors and visitors are interested in different SPA, we present a specialized publication "SPA". Addressing to the each audience
separately, we publish only high-quality information.

SPA professional is designed for training specialists in the sphere SPA: SPA-technologists, SPA-operators, physical therapists, cosmetologists, etc.

SPA management helps to understand the directions of SPA, select and organize the optimal SPA, to orientate in a variety of learning centers, to select and train staff and manage the process competently.

SPA personal presents opportunity for readers to determine the variety proposals and choose exactly that really help to relax fully and find harmony of body and soul in the fast rhythm of modern life.
Contact details
Address: 125212, Moscow, Golovinskoye highway 5/1
Useful links
2B901