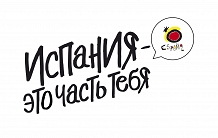 The Tourism Department of the Embassy of Spain is part of the Spanish Institute of Tourism (TURESPAÑA), which is subordinate to the Ministry of Energy, Tourism and Digital Technology of Spain, and also part of the Spanish Embassy in Russia. Functions of the Tourism Department of the Embassy of Spain are: - National Tourism Office. - Promotion of Spain as a tourist destination in the Russian market. - Development of cooperation with autonomous communities, local authorities in programs to promote the Spanish tourism. - Participation in exhibitions. - Communication with the public and the press. - Information support for professionals and individuals. Activities of the Tourism Division of the Embassy of Spain extend to the territory of Russia and other CIS countries.
Video
https://drive.google.com/open?id=1n3XJop0PHLd4aI2eHpv74bKPoloTkaYO
Contact details
Address: Moscow, Tverskaya 16, office 601
Fax: +7 (495) 935-83-96
Useful links
Participate together with:
Blau is the color of happiness
Blau Hotels & Resorts is a hotel chain with a portfolio of 5 hotels, located in most popular holiday destinations Majorca, Cuba and the Dominican Republic.

Welcome to visit
Goldcar is a benchmark in holiday car hire in Europe.
The company, with more than 30 years of experience, currently has more than 105 car hire offices, located at major airports and tourist destinations in Spain, Portugal, Italy, France, Malta, Andorra, Morocco, Greece, Croatia, Netherlands, UK, Romania, Cyprus, Turkey, Serbia, Iceland and Montenegro
Welcome to visit
iTravex Spain & Andorra - is truly a DMC of the 21st century. We combine innovative online technologies and a wide range of hotels, with the widest range of services. In 2018 iTravex entered the TOP-5 fast-growing companies of the EU. Main product: online (whole world) and offline (Spain, Andorra) hotel and hotel booking.

Welcome to visit
Everything is Possible
Founded in 1956 in Palma de Mallorca, Spain, Meliá Hotels International is one of the largest hotel companies in the world and the largest hotel chain in Spain in both resort and city hotels. The company currently operates more than 370 hotels in 43 countries and 4 continents.
Welcome to visit
ENJOY ANDALUCIA INTENSELY
Turismo de Andalucía (Andalucia Tourism Board) is the public company of the Regional Government of Andalucia in Spain, in charge of promoting this awesome spanish región, "Andalucia", and its tourist resources.
Phone: (+34) 951299300 - E-mail: jmperez@andalucia.org
Website: www.andalucia.org
Welcome to visit
Tenerife is a volcanic island in the Atlantic Ocean, on which it is possible to call winter a spring with a mild climate with an average annual temperature of 23 degrees. Here you will find modern hotels, many leisure options for every taste, an amazing cuisine, old traditions, a rich culture, safety and convenient communication.

Welcome to visit
2B1901